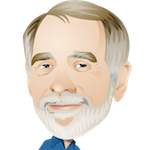 Michael Krepon
Michael Krepon is the co-founder of the Stimson Center. He worked previously at the Carnegie Endowment, the State Department, and on Capitol Hill. He has written over 500 articles and is the author or editor of twenty-two books, mostly the product of Stimson programming. He's now writing a book on the rise, demise and revival of nuclear arms control. He was given a lifetime achievement award for non-governmental work to reduce nuclear dangers by the Carnegie Endowment for International Peace in 2015.
Most Recent Posts
Count Every Warhead: A Critique
July 06, 2020
The Scam of Sacrificing New START for Visionary Goals
June 28, 2020
Trump & Bolton
June 21, 2020
Trilateral Negotiations to Count Every Warhead
June 12, 2020
Hope
June 07, 2020
A Flock of Black Swans Comes Home to Roost
May 31, 2020
The Open Skies Treaty Bites the Dust
May 21, 2020
George W. Bush and Dick Cheney
May 17, 2020
Trump's National Security Strategy Revisited
May 11, 2020
Hard and Soft Power
April 30, 2020
Most Recent Comments
In: The Open Skies Treaty Bites the Dust
June 7, 2020 10:03 pm

Putin didn't like the prohibition, so he disregarded it. There was no need to withdraw first; this would blow his…
In: The Open Skies Treaty Bites the Dust
June 7, 2020 10:01 pm

Putin wins when Trump leaves a treaty that US allies very much want the US to remain in.
In: George W. Bush and Dick Cheney
May 18, 2020 9:32 am

Cheney's memoir doesn't spend time on NATO expansion. Bush's memoir is pro forma and not very helpful. The memoirs of…